Factory Tour

The Egret Boats manufacturing facility is on a seven-acre area in North Carolina. Designed by Frank Afshari, the owner of Egret Boats and a former architect, the Egret factory is as efficient as possible, in both manpower and energy efficiency, which helps keep the costs of operations low.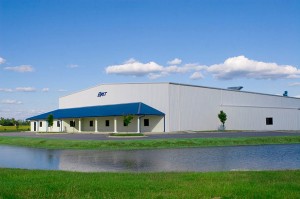 Frank, using his experience and expertise as an architect, has designed a plant that drastically reduces the amount of time necessary to create the boats while not sacrificing any of the quality that Egret is known for. In the previous facility, it took 600-650 manhours to create an Egret. Now, it takes only 440, and the boats are better than ever.
These incredible efficiency gains are the result of the greatly streamlined design at the plant. The manufacturing units are modular, and company employees never have to walk too far to do any task because everything they need is right there at their station. An overhead crane transports molds effortlessly and without disrupting any other work stations.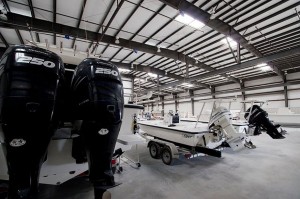 The facility is incredibly energy efficient as well. The lighting in the building is almost entirely supplied by skylights. The heating system uses only radiant heat, installed under the floor, which not only keeps the slab warm but keeps the molds at the right temperature. In a hot air system, you're heating the ceiling, and eventually some of that heat trickles down, but in a radiant system like Egret's, the heat stays low, where it needs to be.
This emphasis on efficiency at the manufacturing facility helps keep costs low, which Egret gives right back to its customers: though the costs of material have gone up 35% since then, Frank is committed to maintaining prices at the 2001 level.